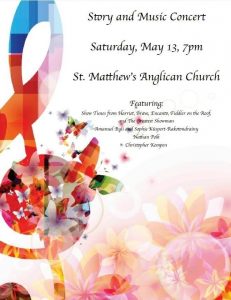 Story and Music Concert, Saturday May 13th, 7pm at St Matt's
An evening of show tunes, stories and fellowship. This is a free concert, directed by Lori Kempen. Everyone is welcome.
---
Coronation of King Charles III, May 6 2023
Clicking the link will take you to the Authorised Liturgy for the Coronation Rite of His Majesty King Charles III. It is beautifully annotated to explain the rich meaning of the words and the strong link to Scripture and the Gospel Truth.